BC Sands Testimonials
Plus firewood reviews!
(scroll down to the bottom to read these)
Impossible deliveries? No such thing. Our 21-meter crane truck in action!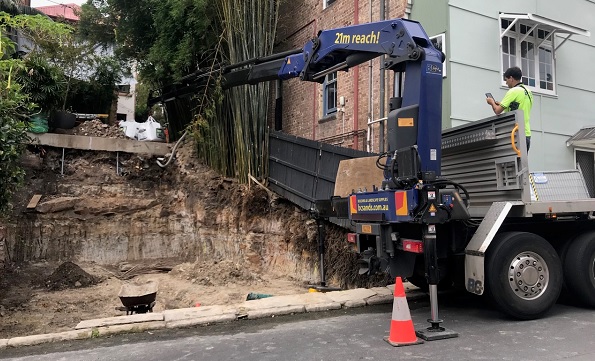 "Feedback on the great service at Glebe on Wednesday. Tricky lift in a tight street, but Ben was up to the challenge, where other drivers from other companies just say "too hard". Job well done, thank you."
Drew from HomeConstruct, Glebe, April 2020
Trade Talk
Probuilt Projects
I have been using BC Sands and their fleet of crane trucks for over 3 years now. In that time I have seen their fleet, not only grow in size, more importantly for me, capacity. I have many projects on the go at the same time and need a supplier who is reliable and can get the job done. BC Sands fleet of long reach (21m+) crane trucks and their expertly trained drivers do just that, get the job done. I am always particularly impressed with the crane operators ability to place our delivery exactly where I need it. Even through tight spots like windows and door openings, down into pits, across to the other side of the site etc.
Vadim Jefremkov - Probuilt Projects
Pickup Developments
From my experience BC Sands has the best range of truck mounted cranes in Sydney. Couple that with their amazing operators who go above & beyond to get my materials where I need them & you have an affordable solution that is on par with any mobile crane hire that I have used. I can't recommend them highly enough.
Dave Pickup - Pickup Developments
George Walker & Son
I have been using BC Sands crane trucks since they got their very first one. Since then I have seen the fleet grow to be easily the biggest and best of any comparable suppliers I have used in Sydney. Having my supplier lift my materials (up to 21m) without me having to hire a supplementary crane really makes life easy & efficient. A real bonus is you can hire the trucks to do extra lifts around the site which is really convenient and time saving. The rates are competitive and their operators are the best in the business.
George Walker - George Walker & Son
Attena Group
I have been using BC Sands for my projects for the last 24 months. In that time I have been using their long reach crane trucks often for my job at Coogee. There are many reasons I have gone down this path. BC Sands run a fleet of well maintained late model crane trucks. Their drivers are well trained and go above and beyond expectations. On the odd occasion I have found the 17m crane and their new 21m crane invaluable on my site. I have not been able to set up a tower crane on this site and BC Sands long reach cranes have more than compensated for this. Not only have I been able to easily lift product to the 5th and 6th floor but their skip bag rubbish removal means I have been able to clear the site floor by floor without wasting valuable man hours carrying the rubbish down, being able to do this also leads to a safer worksite. I have utilized the fact that BC Sands only charge by the lift and not an overall crane price. This means that if we only need two or three bags or pallets of bricks, blocks etc. we are only paying for those lifts. I have also hired their truck on occasion, as they have a minimum 2 hour hire instead of the usual 4 hour hire. This can save big dollars and means I can move any material around site when required. BC Sands offer the full package; good drivers, large fleet and a full range of quality products. I would highly recommend their services to any who asked.
Aria Abbasi - Attena Group
Preferred Developments
Great guys to deal with and good for large orders. Always willing to accomodate our Sylvania waters project. Highly recommended their great rates and service!
"Ordering was very easy, salesperson knowledgeable and curtious. Delivery drivers very good and placed products close to work site as possible."
"The driver was fantastic. I always love two things about your service. 1) every time I call, you know my phone number comes up and greet me by name, having this noted from previous orders. That's awesome. 2) The SMS I get prior to every delivery, is very reassuring to know that the order is definitely on its way. Your drivers are always excellent and courteous. Please thank them. Especially when I know manoeuvring those large flat bed trucks through the narrow streets of the inner west can be quite difficult!"
"Info great. Delivery great. Product better than expected so far. Thanks to your team. Website does its job, your info and customer care is what is working for you."
"Amazing service. Received a message with a small delivery window and then a text message with approx delivery time on the day. They were here on the dot and helpful with where I wanted the delivery putting. Can not fault BC Sands. Thank you."
"Have ordered several times, and always on time and good quality, very happy with the service provided."
"Driver was awesome. Got the job done despite our difficult site."
"I found it very easy to use the ordering system and the delivery was made right on time. I will definitely use this company again."
"Truck arrived and was unloaded quickly was amazed at the value for delivery service."
"How great is the crane delivery! Saved me hours, actually probably days."
"The BC Sands team delivered above and beyond. I asked for the possibility of accelerated delivery and they did it within 24 hours. Very happy - you guys are legends!"
Go on, make us blush...
Little gardeners deserve the best Veggie Mix!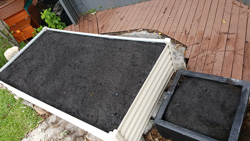 Thankyou BC Sands for our delivery this morning! So excited for our first veggie patch to take shape. Our little helpers will be sure to wear their gardening hats, the middle one has not removed it since this morning :).
Sarah, February 2019
Under the powerlines, through the gap, over the pool...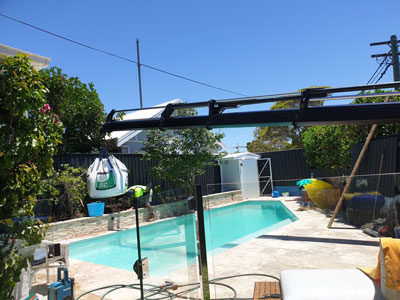 I just want to say thanks to Ben who delivered to Rose Bay today. He was super friendly and helpful. The delivery was really tricky and he lifted the bags right in under the powerlines, between the opening in the fence, and over the pool. Then we could drop it straight into the garden. Saved me hours of shifting.
Marcel, Rose Bay, January 2019
"Amazing. Order at 10pm. Arrive 715am. During Covid-19!"
"Ordering online was super easy with good advice on what products to choose. I received an SMS before the delivery driver arrived who was well presented, helpful, professional and friendly."
"Driver was Fantastic very friendly and helpful"
"The driver was extremely obliging and a very nice happy person - great to see in these trying times"
"Driver was very courteous and mindful of putting the product to reduce damage to my garden."
"BC Sands we amazing, for our family it was allot of money and stress to landscaping our home and BC Sands made it stress free with competitive prices. I don't usually fill these survey's out but I was blessed by how stress free you did everything and how quick it happed. The driver's were very pleasant and professional as well. THANK YOU"
"All BC Sands personnel have been extremely helpful. Our delivery and pick-up person was an absolute delight to meet and a pleasure to deal with. He is a great representative for your company."
"Easiest order i have ever made, the delivery person was an absolute legend."
"BC Sands were so helpful, on time & communicated well."
"I placed my Online order Friday, received your text early AM to advise that the order would be delivered 1st thing Saturda & your delivery driver was a very pleasant man, helpful & efficient! :) Well Done Guys! A real pleasure to do business with BC Sands!"
"Customer service on the phone was exceptional. Polite, friendly and knowledgeable....10/10!!! :)"
"was pretty cool - the whole experience. will need more stuff for my house, is there any loyalty program I can join?... to get a 21meter crane hire for free? ;)" Nice try...;-)
"Website is easy to use and has very handy information on each product, prices are great and the products are of high quality. Delivery was very easy too. Thank you so much ! You guys are awesome xxx"
"Your staff were amazing - from initial contact to delivery! Well done - appreciate a company where staff live their jobs and employer."
"Customer service was fantastic. Very helpful, and made my dumb questions seem normal. Thanks" There are no dumb questions!
"Online trandsaction was very quick and efficient. Detail on delivery dates and times was prompt and alternate options made clealry if required. The delivery was on time and the driver extremely polite. Absolute pleasure dealing with BC Sands from ordering to delivery everything was seamless."
"I was extremely impressed with the drivers skills and care that they took placing the mulch in our tight drive way on a inner city very small street. Exceptional driving skills."
"staff absolutely amazing from office to driver extremely impressed all to be congratulated"
"Went into the store late on a Friday afternoon, the extremely helpful young man helped me choose some landscaping pebbles and arranged delivery for first thing the next morning, the truck turning up right on time. So easy, so fast."
"I was extremely impressed with the drivers skills and care that they took placing the mulch in our tight drive way on a inner city very small street. Exceptional driving skills."
"The driver was very pleasant and tried to place load where I asked. Went out of his way to make things easy for me."
"Great communication from automated messages. Well timed delivery, kind driver, skilled reversing down a difficult driveway."
"Phone staff member was really helpful when I called for some assistance. Although he didn't take my order (I ordered the next day after re measuring) he was happy to take his time to explain the finer points of laying turf. The delivery driver was very accommodating and friendly. Great experience all round."
"The website is exceptional that it covers all concerns with delivery with some simple clicks. Our delivery person was very considerate in how we were going to use the materials and arranged them out for easy access. Much appreciated BC Sands."
"Delivery driver waited when he arrived as not to wake up the other residents. Delivery was prompt and the customer service was great. Would use this company again."
"The driver delivered our Soil & Mulch and was awesome. Nothing was a problem, dropped the materials exactly where I wanted them and was very pleasant to deal with. The SMS's advising me of the timing and delivery was awesome. BS Sands - you under promised and over delivered. Sensational Service and would recommend to anyone."
"Great service, very helpful. Highly recommend, this is the best, most efficient service I have had from any company for ages. It was so good I ordered online and then had to change something, they were friendly, helpful and it was all sorted out quickly and easily. Highly recommend them."
"Very good service. I wasn't home at time of delivery and the driver did it all without me Excellent!!"
"Delivery man is extremely kind and helpful Goods arrived in premium quality as it shown online. SMS system is very good, consumer knows ordered goods is coming on schedule."
"Staff provided friendly service with excellent product knowledge. I viewed your website, no issues easy to navigate.
"From counter staff to the delivery driver ... all were awesome and very helpful ... the driver was a legend."
"I was really pleased with the quality of the soil I had delivered. Also it was a generous amount. Another thing that impressed me was that I received texts to remind me of the delivery & it came within the allotted time - well done!"
Short and sweet!
"All good!"
"Wonderful site and service!"
"Nothing to add. All was perfect. Even email comms were great."
"Customer service was excellent. Delivery was friendly and efficient. Very happy."
"Absolutely seamless service. Thank you."
"Very efficient. Delivery driver was outstanding. So helpful."
"just perfect. cannot add anything. thank you."
"keep up the good work!"
"Absolutely delighted, we will be back."
"Great service."
"Driver was great!"
"All very good and easy."
"Excellent all round."
"Already recommended you!
"Ordering was very easy. We also got same day service."
"Very professional service & prompt delivery."
"Very satisfied, received same day delivery."
"Delivery driver was very friendly and helpful."
"The driver put the 2 loads of top soil exactly where I had asked him to! What a legend!!"
Sometimes it's the little things that matter...
"Love that you guys have a fruit bowl at Taren Point......often the only food I get until dinner time...... very busy!!!!"
Firewood reviews
"Just bought a fire pit for my wife's birthday and your Firewood Package was the perfect way to christen it. The wood lit very easily and burned well, the Mystical/Magical Fire sachets were a nice touch. Lots of Ooohs and Aaahs! Thanks."
"I'm getting my firewood from BC Sands every winter. Their service is excellent, the wood is of highest quality and the price is better than elsewhere: if you bought 500 kg = 25x20 kg bags in a major hardware store, you'd pay nearly $400 (and carry all those bags home yourself!)"
"I would like to say Thankyou for being flexible and customer focussed.I ordered Friday and thought I would let BC sands know I was home that afternoon and Saturday if they wanted to have some flexibility with their schedule....wow, and you delivered that afternoon... WOW! Thank you.What great service.What a great attitude.Love your work.I will be back"
"High quality product, extremely pleasant and helpful staff and prompt delivery. Could not ask for more."
"The quality of the timber supplied by BCS is first class. Hard, dry good burning logs. Quite superior to what I can produce myself from fallen trees on my country property."
"Very easy to use the on line ordering service, delivery prompt with sms phone confirmation, 500kg skip bag craned into required position. I have been sourcing firewood from around Sydney for over 30 years and the Pilliga hardwood is the most effective I have ever used - well seasoned, long burn time with high heat output. Great product and great service!"
"Even though I used the online store I think I still prefer to talk to a human! Either way I'm very happy with the service and the range or wood you have (not just the top grade or bottom grade) and really like the saw mill offcut product (even though I haven't checked it out yet - still in the bag). I have a wood fired oven so the long lasting heat isn't as important to me (the bricks retain heat for a few days) so the choice of the cheaper wood is awesome."
"I found the [BC Sands online shop] experience simple and straightforward. Clicking on items to see a larger view is always a winner. Also I had made a phone call as well and found the staff friendly and professional. The product is of high quality - not damp, like another supplier - and therefore I feel the extra cost is worth it (the other supplier had delivery included in the pricing structure)."
"I would love to rate my experience with your business. I have just installed a slow combustion heater at home and was looking for wood, so I typed in "sydney firewood" and BC Sands was one of the first sites to come up. I looked through your site and got a price then searched other sites to compare. The reason I came back to you was the simplicity of your site. I could see what I needed and it was easy to order and I knew the price. Finishing the transaction as a new customer was also a breeze, order completed and confirmed by you in around five mins, brilliant. The other thing was the link to the FAA which no one else has and gave me peace of mind about your product."
"The product is also excellent, we had our first fire last night and the wood burns long and hot, the pieces are just the right size and I don't have to spend time with a block splitter trying to make them fit."
"It was a pleasure doing this purchase.
1. I did a web search and after looking at several felt that BC Sands would provide the service I wanted. I was not disappointed.
2. It is a very easy web site to navigate.
3. The delivery person arrived EXACTLY at the time stated. He was also friendly and helpful.
4. I have used another supplier for fire wood previously-the 500kg reusable bag is tidy, assisted in the management of the wood and is great for recycling.
5. Definitely using BC Sands again."