About Us

BC Sands has been supplying landscaping, building supplies and firewood throughout Sydney and beyond for over thirty years.
Early Days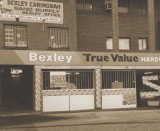 Over thirty years ago, young Mark Parsons--still our owner and managing director--started in a small hardware store in Forest Road in Bexley. Selling sand was a minor part of the business, but Mark built on it by adding different types of sands for different purposes. The minor sand line grew to become the core part of the business and Mark moved to larger premises in Caringbah in the Sutherland Shire, acquiring several smaller companies along the way. Sand was joined by other bulk products like aggregates, soils, pebbles and mulch and then by a huge range of building supplies including bricks, blocks, reo, lintels, cement and more.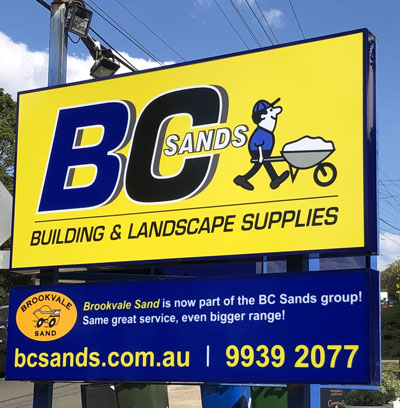 In August 2019, we took over Brookvale Sand and Minicrete (once known as Brooky Bob's), a similar family-owned landscaping and building supply business based in the Northern Beaches. This gave us a second yard and warehouse, plus even more trucks, so we can offer faster and more efficient service to areas further from Sydney's South, including Sydney City, City East, Inner City, City West, North Sydney, the Northern Suburbs, Upper and Lower North Shore and the Northern Beaches.
Now Mark and almost 100 staff work out of our two yards in Taren Point and Brookvale. The walls of the yards are lined with large-capacity bins to hold bulk products like aggregates, sand and mulch and our warehouse shelves are piled high with 20 kilo and 50 litre bags and other building and landscaping products.
We deliver loose loads, bulk bags or small easy-to-handle bags. Our fleet of over thirty trucks includes small, nimble tippers that can fit down the average driveway, trucks and dogs for bulk supply and crane trucks right up to 21 metres. With so many options for product, packaging and delivery, BC Sands supplies all types of customers, ranging from Sydney's biggest builders to local gardeners.
Service and Delivery
It's not enough for us to supply great products, we also want to offer great service and delivery. At its simplest, we deliver on time and in full, often on the day of order and usually within 24 hours. But that's only part of the story. We have a dedicated sales team, ready to take trade orders quickly and efficiently, or to take time to talk to customers who need additional information and support when choosing products and calculating quantities. We've also taken an industry lead by establishing this online shop where you can not only order products, but also book delivery--a service that many trades and companies take advantage of, booking deliveries from work sites using their phone or tablet.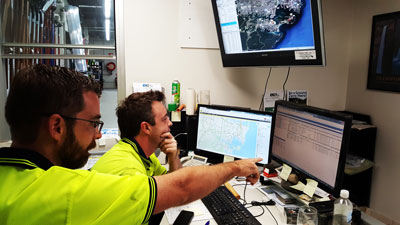 Our drivers are among the best trained and most professional in the business and always take the extra step to make sure that deliveries go smoothly. They are backed up by an advanced truck allocating and tracking system which automates and optimises our truck movements for more accurate delivery windows. We also send out messages to customers letting them know when their delivery is being loaded, when it's on the road, the driver's name and truck number and an estimated delivery time. If nobody is available to sign at the time of delivery, we will take a time-stamped picture of the delivered product, so you are always kept fully informed.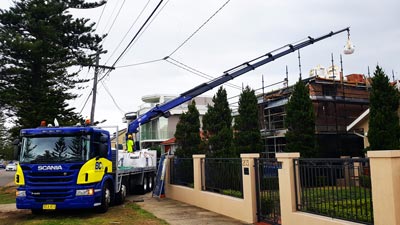 And then there are our trucks... We pride ourselves on having one of the most modern and reliable fleet of trucks in Sydney. Our flagship trucks are our two 21-metre crane trucks, which are in constant use delivering products to some of the most challenging sites in the city and beyond. These are backed up by a full range of other crane trucks to suit every site, including 17-metre, 7-metre, 5-metre and 3-metre reaches. Our bulk haulage fleet of trucks and dogs carries large loads (up to 32 tonnes in a single truck and dog combination) over long distances, and, at the other end of the spectrum we have small narrow-bodied trucks to handle smaller deliveries as well as awkward driveways, lanes and tight spots.
Wide product range
Our range includes over 10,000 products and if we don't have it, we will track it down for you! Our staff has vast knowledge and experience.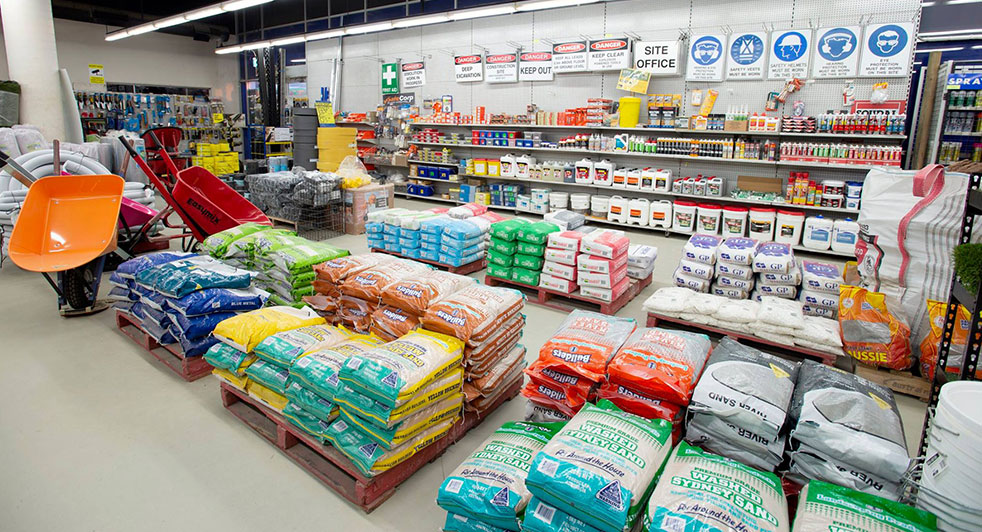 In addition to our bulk products we have stores at both Taren Point and Brookvale selling construction supply-related products to support both trade and general customers. You can also pick up your products at Taren Point or Brookvale and we will load your ute, truck, trailer or car for you. We also offer courtesy trailers to help you get your products home.
Ordering
Ordering is easy--you can do it right here on the website and receive a 2.5% discount. Or our friendly sales staff are ready to talk on 8543 3401.
Environmental Awareness
We do everything we can to reduce the impact of our business on the environment. At Taren Point, a large proportion of our energy is produced on site from solar panels on the roof. Recycling is an integral part of our procedures--not just paper and other office supplies, but in the yard too. For example, old pallets and firewood fines are composted and our maintenance department is conservative in its use of parts and machinery, re-using as much as possible. We sell recycled products, such as aggregates, road base, crusher dust and crushed tile. We are a member of the Firewood Association of Australia, which means that we only sell firewood derived from renewable sources. And we use our truck movement software to plan deliveries in the smartest way possible to reduce number of trucks used and to take the most efficient routes, reducing fuel consumption and wear and tear on the trucks and the roadways.
Contract Bagging
Through our subsidiary, Bagged Product Supplies, we also bag landscaping and building supply products, as well as firewood and kindling, for clients. Our packing line specialises in open-mouth poly woven bags and our most commonly requested sizes are 20kg or 50 litre bags, although we can also fill larger or smaller bags. For many customers we bag our products in their bags, but others deliver their own products in bulk for bagging. We're fast and flexible and happy to do emergency and one - off jobs as well as regularly scheduled projects. Our bagging line includes palletising and wrapping. Visit our contract bagging website for more details.