Turf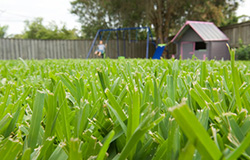 Turf Checklist: Six key points about choosing and laying turf
Got questions about turf? We've got the answers!
Ready to order? Scroll down the page to choose and buy your turf online!
1. Which turf should I use?
Choose a variety that works for your needs and conditions. For example, is your yard shady or does it get lots of sun? Will kids and pets be running around on it? Are you in a drought-prone area? Do you enjoy cutting and edging your lawn or would you rather do tha ...more
---

Quantity discounts apply. Click on the product name for more details.