Soil can make or break your garden! Sadly, the composition of soil in Sydney gardens often needs improvement to sustain flourishing plant life. Choosing from our range of quality garden soils and mixes ensures you will always have just the right soil profile to support happy, healthy plants.
Our Organic Garden Mix is a nurturing soil for general plants such as shrubs and annuals. Native plants have specific needs from their soil, including less phosphorus than other plants, so if your garden is mostly natives, your plants will thank you for using Native Garden Mix. For your vegetables, we have the perfect growing medium in our Vegie Mix. Planter boxes need a specific combination of soils to prevent the soil from becoming anaerobic and killing your plants--see our Planter Box Mix Top and Planter Box Mix Bottom for more information on planter box soil. For your lawn, we offer purpose-blended soil, Turf Gro, which can be used as a premium underlay for new turf or as a top dressing to perk up your lawn in spring. And we even have potting mix to give garden pot plants the best start in life, in handy 25 litre bags for easy use.
For a quick way to find the right soil, use our soil decision tree--click on the soil names at the bottom of the chart to be taken to a product page with more information on that soil: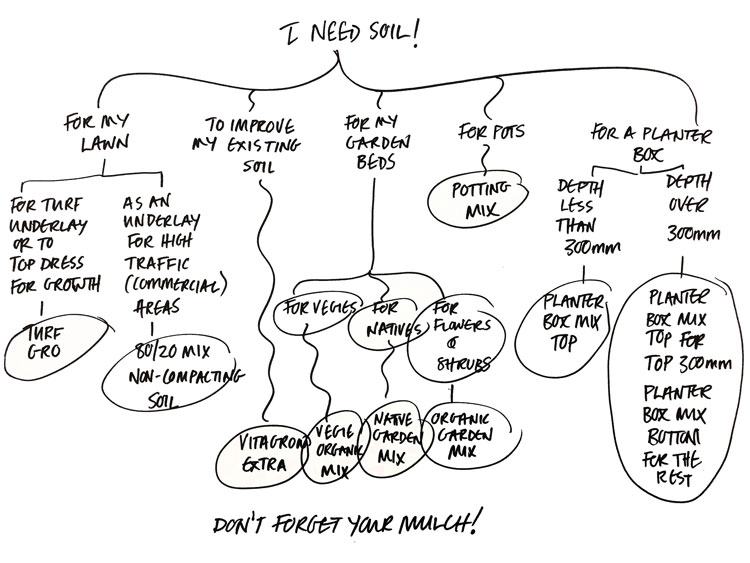 All our loose garden soils can be delivered tipped or in bulk bags, or packed in small 20 litre bags, enough to fill your entire yard or for quick garden bed top ups. Our crane trucks can position bulk bags just where you need them, sparing you hours of work shovelling and moving soil around in a wheelbarrow. With reaches of up to 21 metres, they can even get bulk bags over fences and roofs! If you are not sure how much soil, you will need, take a look at our calculators page for advice on understanding quantities and easy-to-use calculator tools to help you figure it out. Or our sales team are always happy to help--pick up the phone and dial 8543 3401.
If you want to find out more about the soil you already have in your yard, check out the fascinating (and detailed!) data at the State of NSW and Office of Environment and Heritage's website for detailed information on the soil geography in Australia. Or, if you're getting ready for a garden project like installing turf, learn how to test soil pH in our article.
Delivery
With yards at Brookvale and Taren Point, our landscaping and building products can be delivered throughout greater Sydney's Eastern Suburbs, Sutherland Shire, Northern Beaches, Western Suburbs and beyond. Loose products such as mulch, soil, sand and pebbles can be tipped or delivered in bulk bags.
Book your delivery time when you check out!