Your Complete Guide to Saving Water With Mulch!
Already know which mulch you want? Scroll down to order your mulch online!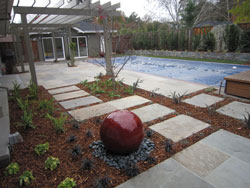 Everyone knows mulch looks good. But did you know about the many ways it can benefit your garden, including saving water?
With drought afflicting Australia for several years, everyone across the country has been asked to do what they can to save water.
At the moment, we are under Level 1 water restrictions in Sydney, which restrict the use of water outside. You can only use a hose to water your garden before 10 a.m. and after 4 p.m. and the hose must be fitted with a trigger nozzle. For more information, take a look at Sydney Water's water restrictions page.
With every drop of water more precious than ever, if you want to keep your garden alive, let alone looking good, then you need to find ways of making the most of every drop. One of the best ways to do this is mulch.
Mulch Saves Water
Mulch is the ultimate protector for the moisture in your soil. When bare garden beds bake in the sun, any moisture in the soil is rapidly sucked out. Under a layer of mulch, your soil remains dark and cool, retaining moisture for the roots of your plants and preventing the roots from overheating.
Mulch Protects Your Soil
As water evaporates, soil dries and compacts, repelling the earthworms and other soil- loving organisms whose movements aerate the soil. When they disappear, plants struggle to expand their root structure. Soil that remains cool and moist under a protective layer of mulch is more appealing to these tiny animals. The result is healthy soil that encourages root growth.
Erosion is another enemy of exposed and dried-out soil. Mulch forms a stable surface that stops wind from whisking off your precious topsoil into the garden next door. And when rain eventually comes, mulch will prevent rainstorms from washing your soil into your drains.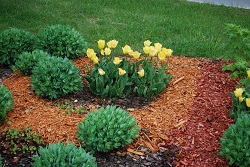 Mulch Controls Weeds and Pests
One of mulch's most prized properties is weed control. If you are hauling water to your garden, the last thing you want is for it to be swallowed up by thirsty weeds. A thick coating of mulch prevents sunlight from reaching weed seeds, stopping them from sprouting. Many garden pests also dislike mulch. Some organic mulches have scents that repel pests and a rough textured mulch provides an inhospitable surface for crawling insects like slugs and snails.
Tips on Making the Most of Watering with Mulch
Weed and water the soil before you lay down your mulch. This means that your mulch will immediately be protecting moist soil. If you are using organic mulch, water the mulch when in place.
For maximum impact on weeds and benefit to your soil, spread your mulch to a depth of about 100mm
When you are watering mulch, water thoroughly. The water will soak through your mulch into the soil. Do a thorough soaking every few days, rather than a light spray every day. It may take longer, but the moisture will last longer in your soil. Less frequent but more generous watering also encourages deeper root growth.
Consider a Mulch Garden!
If you are in complete despair over saving your garden, or want to reduce your outdoor water use to almost zero, the ultimate step is to establish a low or no-water garden, also known as a xeriscape garden. In these gardens, mulch of all types, from bark to pebbles, is used as a major design element, creating visual interest that is at least as important, if not more so, than plants. These gardens use only a few plants, but can include rocks, tree limbs, statues, pots and timber.
What type of mulch? Organic versus Inorganic Mulches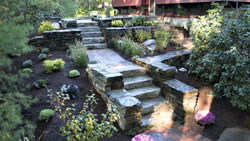 All mulches will protect your soil, but there are additional benefits to specific types.
Organic mulches, which include bark, wood chips and leaves, break down over time and so have a shorter life than inorganic mulches like stones and rocks. However, the environmental benefits of organic mulch to your garden are far greater. As these mulches decompose they add a rich blend of minerals and organic matter to your soil, resulting in a more nutritious growing medium for your plants. Organic mulches are attractive to earthworms and other soil organisms, encouraging the invisible activity that keeps your soil and plants healthy.
Inorganic mulches, which include pebbles, blue metal, quartz and crushed tile, offer a more permanent mulching solution. Laying mulch mat or weed mat under an inorganic mulch offers as close to an impermeable barrier for weeds as it is possible to get, giving you a garden bed that needs virtually no maintenance. If you use pebbles and stones as mulch, you can use different sizes to create effects like dried river beds and other decorative features. Inorganic mulches are also safer to use close to buildings and wooden structures as they will not harbour termites and other pests.
Inorganic mulches don't make the same contribution to the soil that organic mulches do. They also absorb heat during the day and release it at night, which can be drying for your soil. And moving and replacing inorganic mulches is challenging. Be sure you like the look you are getting, because it will be with you and your garden for a long time!
Types of Organic Mulch
Want to know more? You will find more information on current water restrictions on Sydney Water's water restrictions page. Discover our range of inorganic mulches in our article about decorative pebbles and gravels. Or read more about how mulch helps your garden in our article 8 Great Reasons to Mulch!
Delivery
With yards at Brookvale and Taren Point, our landscaping and building products can be delivered throughout greater Sydney's Eastern Suburbs, Sutherland Shire, Northern Beaches, Western Suburbs and beyond. Loose products such as mulch, soil, sand and pebbles can be tipped or delivered in bulk bags. Please note that imported pebbles only come in 20kg or 15kg bags
Book your delivery time when you check out!