Your Top Five Questions About Pebbles Answered!
Plus landscaper pebble tips and trade secrets!
Already know which pebbles you want? Scroll down to order your pebbles online!
So many pebbles, so many visual effects... Pebbles add texture and colour to your garden, while also fulfilling a practical purpose such as paths, driveways, drainage and mulch. Our guide will help you find the right size, colour and texture for your garden. Includes landscaper insider info on what pebbles are in style right now, why you shouldn't use white or polished black pebbles everywhere in your garden (sorry) and how to stop (most) dogs from digging up your garden!
Q 1: What's the difference between pebbles and gravel?
Pebbles are rounded and smooth, worn into shape by the motion of river water and come in a wide range of natural colours. Artificially coloured and polished pebbles are also available. These pebbles are usually imported, while the natural-coloured pebbles are usually sourced locally. Gravel is sharp and angular, with uneven edges and inconsistent shapes. It is made from crushed rock and is sourced locally and overseas.
Q 2: Which pebbles should I use for pathways and driveways?
For pathways, choose a gravel, or pebbles of under 10mm, which will be too small to roll underfoot (which in turn can roll your ankle). Try the mixed browns of Hunter River 7mm for a native or cottage garden or add interest with white crushed quartz. Add impact by using larger pebbles and contrasting colours to define the edges of a gravel path. Think about large river pebble lucky stones (75-150mm) to complement a path of 10mm river pebble, or blue metal gabion to complement a path of 10mm blue metal.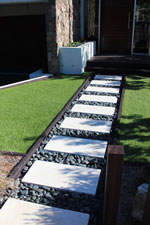 Pebbles and pavers were made to go together! Some of the most striking paths and walkways use pavers with pebbles in between them. Use a different colour of pebble for impact--think about white pavers surrounded by black pebbles, or black pavers with snow white pebbles. Or complement your pavers with a toning shade, like sandstone with Cowra Gold.
As for driveways, gravel is perfect. Pebbles can roll underfoot, but gravel's sharp edges allows it to compact under the weight of your foot or car tyres for stability. Decomposed granite in gold, red or brown pink, rich terracotta crushed tile or blue metal all work well.
Q 3: Can I use pebbles as mulch?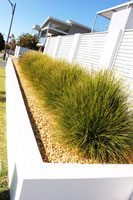 Absolutely. Like all mulches, pebbles and gravel will cut down on water loss from your soil, and they are the mulch that you only have to lay once! Low maintenance, low cost, it never needs to be replaced, it won't blow away, and if you're in a fire-prone area, it's non-flammable, unlike wooden mulches. Use weed mat underneath to discourage weeds from popping up between your pebbles or stones.
And use your mulch to make a statement! Complement native plants with native pebbles like Cowra Gold or Cowra White, or choose a dramatic polished pebble for stunning results. Use them in plant pots both inside and outside to give your potted plants a burst of style. There's a pebble or a gravel for every garden, whether you want an understated or natural look, or to create a garden that pops with drama!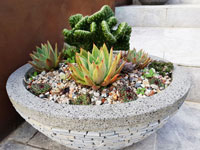 Q 4: How can I use pebbles in to fill in gaps in my garden?
Fill bland gaps between planting and garden features with pebbles to give them instant oomph! Use pebbles in shady corners where nothing will grow and around the base of trees (where a wood-based mulch might cause rot). Layer weed mat underneath your gravel or pebbles to deter weed growth for an eye- catching garden feature that needs no maintenance!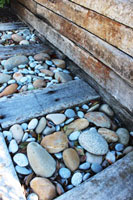 Add luxury and style with glossy black or snow white stones; mix up different sizes for visual interest and add wood or pavers for more variety. Use local Australian stones, like Cowra Gold, Cowra White or River Pebbles, to blend garden features into nature; or create your own features like riverbeds and spirals using different sizes of stone.
Q 5: How should I use pebbles in a Xeriscaping or Japanese Zen Garden?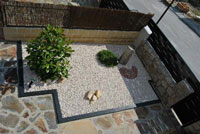 Pebbles are a key element in water-saving Xeriscape and drought-tolerant gardens. Different types, colours and sizes of pebble add visual interest among drought-tolerant plants, and gravel is excellent for creating paths. Colourful imported pebbles add drama, or use the softer colours of our native river pebbles for a more natural look.
For a Japanese Zen garden you mix natural dry landscaping materials, including pebbles and sand, to create calm, meditative surroundings. Sand, gravel, such as crushed granite, or tiny pebbles like our smallest Hunter River pebble are often used in a curving, flowing shape to simulate water. A blend of medium and larger stones can be used to create a dry riverbed effect. Read more about the history of Zen gardens and how to create your own in this fascinating article.
Landscapers tell you their favourite ways to use pebbles!
Exclusive to BC Sands: Local landscaping insiders gave us some of their top tips for combining pebbles, plants and other materials to create themes and impact in your garden!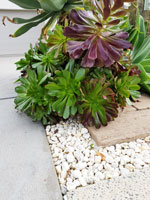 "People are loving wooden planter boxes with plants surrounded by white or black pebbles, often built along the fence line with benches in between. They're practical and good looking; a great way to use a bit of space that isn't always used well. You see them a lot in new build at the moment."
"Here's an easy one for a quick fix of your front yard: use brilliant white stones against dark green or red foliage along the path to the front door. Instant refresh."
"Gabion baskets. I love them. Stack them up and fill them with blue gabion or lucky pebbles and you've got a fence, a gateway, a retaining wall... Whatever. They always look great."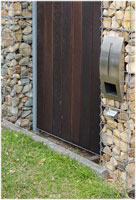 "I like to use white pebbles where I know a plant will have white flowers. Not the brilliant white, but crushed quartz or Cowra White."
"There's a lot you can do with stones in a small yard to liven it up. So, you can use all those colours in imported pebbles to put blocks of colour against one another. Some people like that yin and yang sign in black and white, that's been really popular, but there's a lot more you can do. Link Edge is good to separate the areas; it's narrow so it doesn't spoil the look, but it keeps the patches well separated."
"I did a garden recently that they wanted to be low maintenance, minimal watering. Cacti and succulents with decomposed gold granite, looked like sand. You could use decomposed red granite for an Aussie red centre effect too."
Top tip: Where to avoid using white or black pebbles...
Snow white pebbles are so stunning; we hate to reveal that you shouldn't use them everywhere! The reason is simple: maintenance. Avoid laying white pebbles in damp areas where moss our mould might grow on them, or in excessively dirty areas where their beauty will quickly be dimmed by mud or dust. Use brown or grey pebbles in these areas as the dirt will be less obvious. And, please, if you put white pebbles under deciduous trees use a leaf blower to quickly get rid of leaves in autumn before they can rot and spoil the look of your pebbles!
As for polished black pebbles, avoid using these outside in direct sunlight. These pebbles are coated with a clear finish that the sun dulls over time. To keep them at their shiny best, use them in shady areas or in water features.
Top tip: Here's a secret for dog owners...
Dogs are less likely to dig up a yard that uses pebbles as ground cover than one that uses mulch. Nothing can be completely dog-proof, of course, but most dogs don't like the feel of pebbles against their paws, whereas mulch is fair game! Pebbles will also stop chickens scratching around in parts of the garden that you would prefer to keep chicken-free.
Delivery
Our landscaping and building products can be delivered throughout greater Sydney and beyond. Loose products such as mulch, soil, sand and pebbles can be tipped or delivered in bulk bags. Please note that imported pebbles only come in 20kg or 15kg bags.
Book your delivery time when you check out!