Sydney Firewood: Get Sydney's Best Firewood Delivered by BC Sands!
For Sydney's best firewood, you can't go past Pilliga Premium firewood, our exclusive mix of the slowest-burning and warmest firewood species. The aged firewood in our mix includes Ironbark and Bull Oak and is grown in the Pilliga area, where conditions are conducive to slow growth. That makes this already- excellent firewood even denser, giving you a rich, slow burn for maximum efficiency and warmth, ideal for fireplaces, wood burners, wood heaters, stoves, braziers, fire pits, camp fires, pizza ovens, wood smokers, party fires and more! We are a founding member of the Firewood Association of Australia and have been delivering quality firewood for over 20 years!
NEW! Fire Pit Kit!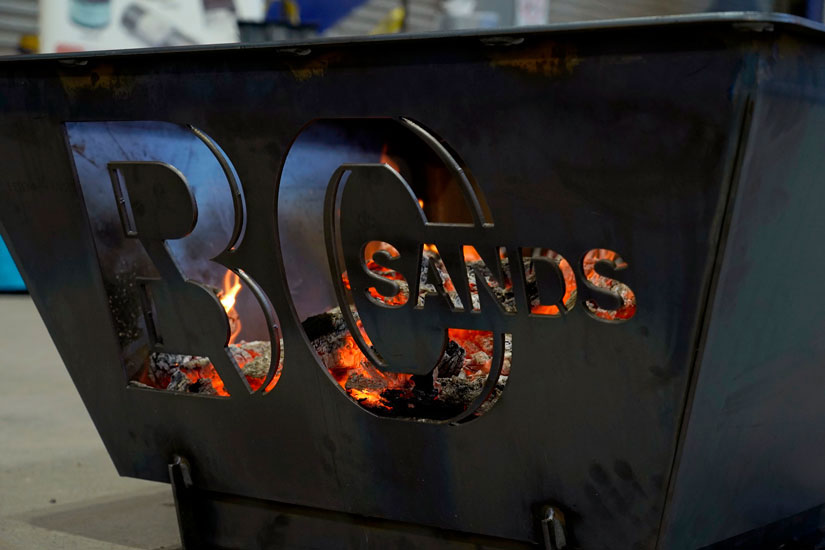 Planning on lighting a fire in your fire pit or brazier this weekend? We've put together the perfect package for you! Just enough firewood for one or two nights (depending on how long you use your fire), plus kindling and firelighters for quick and easy lighting. All for less than buying the components separately. Try our Fire Pit Kit Firewood Package this weekend! Use Click and Collect at checkout and we'll have it ready and waiting for you to pick up--or, like all our firewood, we can deliver!
Latest customer reviews!
"I'm getting my firewood from BC Sands every winter. Their service is excellent, the wood is of highest quality and the price is better than elsewhere: if you bought 500 kg = 25x20 kg bags in a major hardware store, you'd pay nearly $400 (and carry all those bags home yourself!)" May 2020
"Just bought a fire pit for my wife's birthday and your Firewood Package was the perfect way to christen it. The wood lit very easily and burned well, the Mystical/Magical Fire sachets were a nice touch. Lots of Ooohs and Aaahs! Thanks." May 2020
Sydney Firewood: Get Sydney's Best Firewood Delivery too!
We pack our firewood into bulk bags, with delivery throughout Sydney and beyond. We deliver in crane trucks which can lift your firewood over fences and pools, under car ports and power lines, into the ideal spot for you. If your surface is relatively flat and hard we can also use a pallet jack (within 100m of our truck) to get your firewood into the perfect position.
When the bag is in place, simply leave your firewood in the bag and use as needed--no stacking required! If you order early in the day, we can usually deliver on the same day of order, or the next day--but please note, that if there has been recent wet weather, you may notice a delay in the available firewood delivery dates. We always want to get your firewood to you dry and ready to burn!
Hint: Want to save on firewood delivery? Get together with your neighbours! We only charge one delivery fee if we are delivering to the same block. Some very enterprising streets have organised firewood deliveries for multiple neighbours and have split a single delivery fee between them! See our Firewood Delivery FAQs for more information.
Hint: Recycle your bag! Our Sydney firewood bags can also be used as skip bin bags--when your bag is empty, fold it up and save it. Whenever you are ready, fill it up with your rubbish and call us to pick it up and dispose of it. You'll find more information on this service on your bag tag. Extra charges apply.
Sydney Firewood: Easy to Order!
It's easy to order your firewood here online. Our Mega Pack helps you save by packaging your firewood, kindling and essential accessories into a single delivery that gets most firewood users through the entire winter season. Take a look at what's in a Mega Pack in

our video. Or make your own choice of firewood, kindling and accessories to suit your needs. If you have any questions, call our Sydney Firewood Sales Hotline on (02) 8543 3401
Firewood Ordering Decision Tree!
Which firewood is right for you? We've created this decision tree to help you choose. We've added links, so you can find out more information just by clicking on the product names.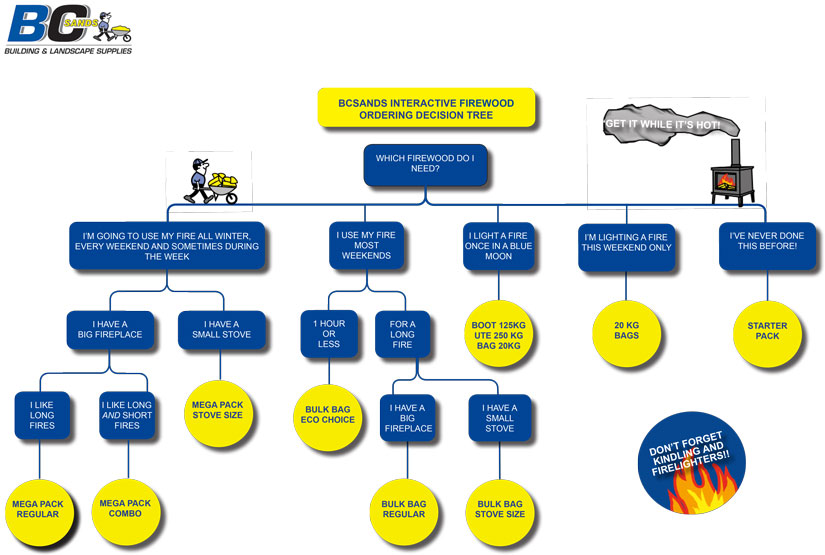 Delivery
With yards at Brookvale and Taren Point, our firewood and other products can be delivered throughout greater Sydney's Eastern Suburbs, Sutherland Shire, Northern Beaches, Western Suburbs and beyond--see our list of firewood delivery suburbs and call us if yours is not on the list. Loose products such as mulch, soil, sand and pebbles can be tipped or delivered in bulk bags.
Book your delivery time when you check out!
Watch a video on how to light a wood burner fire.
Firewood Accessories!
From storage racks to hatchets, we've got a fantastic selection of firewood and fireplace accessories--see our Firewood Accessories section for the full range!